While the City's street repair and reconstruction projects get noticed by thousands of people in Richardson each day as they pass by road crews on major streets, less noticeable but just as busy is the alley repair program. The program is on track to complete work on 39 alleys in the 2018-19 fiscal year, thanks to a significant budget increase over 2017-18.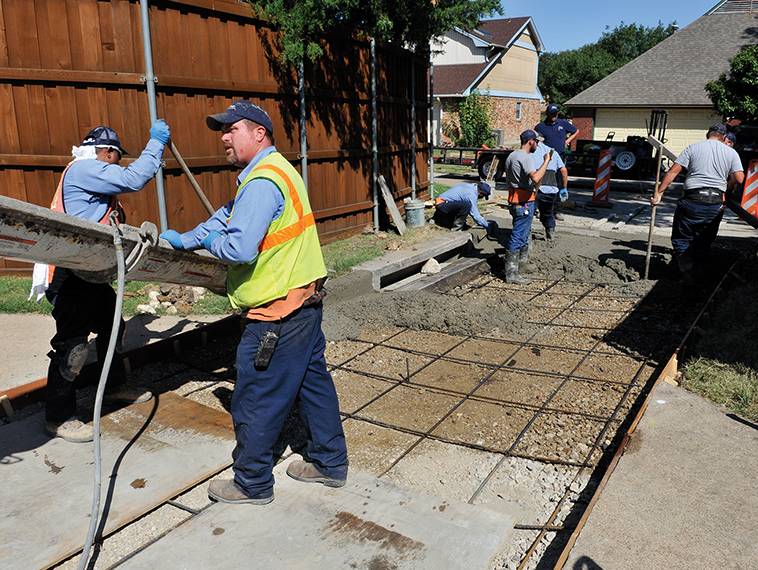 "We've doubled the number of alleys we are working on this year versus last year," Assistant Director of Engineering Jim Lockart said. "We've also been able to broaden the scope of the types of repairs that we typically do in the alley repair program."
The city began setting aside a ½ cent of the property tax rate for the alley repair program in fiscal year 2016-17, a number that was increased to 1 cent in the 2018-19 fiscal year. This year there will be $1.5 million available for alley repairs, an increase from the $653,000 and $709,000 available in 2016-17 and 2017-18 respectively.
Alleys are prioritized for repair or replacement based on a good/fair/poor grading system similar to the City's street program (see story page 1) and are grouped into geographic work "zones" for efficiency and timeliness. The repair work is typically performed on a small percentage of an alley in otherwise good condition, with minimal impact to residents.
Alleys scheduled to benefit from the alley repair program in 2019 include several in Richardson's "panhandle" and several in south central Richardson, with a few in north and far west Richardson (see map on page 3 or visit www.cor.net/richardsonprojects).
Alley work is also paid for by bond funds as they become available. Voters approved 3.8 miles of alley reconstruction in the 2015 Bond Program.
2015 Bond Program alleys currently under construction or beginning construction in 2019 include:
Alley north of 1100 Overlake Drive
Alley north of 1100 Greenway Drive
Alley north of 800 Teakwood Drive
Alley north of 800 Chadwick Place
Alley north of 800 Northlake Drive
Alley east of 900-1000 Crestview Drive
Alley north of 600-700 Kindred Lane
Alley north of 600 William Way
Alley north of 500 Winchester Drive
Alley north of 400 Fairview Drive
Alley north of 1100 Pacific Circle
Alley south of 1600-1700 Syracuse Drive
Alley west of 800 Willow Crest Drive
For more information on 2015 Bond Program projects, visit www.cor.net/richardsonprojects.