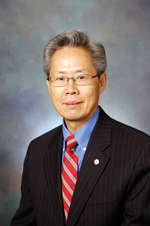 The Richardson Chamber of Commerce honored longtime community leader Charlie Chen as its Citizen of the Year earlier today at the Chamber's annual meeting, held at the Renaissance Hotel.
Chen, an immigrant from Taiwan who opened his first company in Richardson in 1992, is a successful local business owner and entrepreneur. He was celebrated for his countless contributions to Richardson's economic development success—in his work for more than 25 years as a community volunteer and active Chamber member. He has volunteered as an instrumental member of the City's Richardson Economic Development Partnership with the Chamber and he has focused substantial time on promoting Richardson to international companies. He was also instrumental in the development of the Mayor's Office of International Business.
Former President George W. Bush served as the featured speaker at the event. During his comments, President Bush recognized the role of the city as being an economic leader in North Texas and the international community and presence of a large number of international businesses in the city.
Read more about Chen in the March issue of Richardson Today, due out March 1.