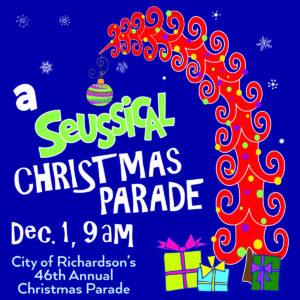 The 46th Annual Richardson Christmas Parade has been scheduled for Saturday morning, Dec. 1 at 9 a.m. The family of Richardson's fallen Police Officer David Sherrard has graciously accepted to serve as this year's Grand Marshals.
"A Suessical Christmas" parade will travel north on Coit Road from Cherrywood Drive to J.J. Pearce High School. Individuals and groups are encouraged to represent this theme with their costumes, vehicles and floats. Come kick off the holiday season and get in the Christmas spirit by participating in this exciting, annual event! The registration form will be available online at www.cor.net/christmasparade beginning Nov. 1. The deadline for registration is Sunday, Nov. 25.
Would you like to become a Friend of the Parade? There are two levels for your convenience: VIP Gold package ($60—good for four people) or VIP Silver package ($40—good for two people) and each includes a parking pass, VIP seating, friends' tent at the parade with refreshments and a gift card that will go directly to a recipient of Network of Community Ministries.
For information regarding the parade or becoming a Friend of the Parade, please contact Parade Manager, Allison Rhinebarger at allison.rhinebarger@cor.gov or via phone at 972-744- 4584.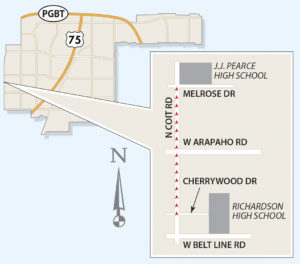 We hope to see you at the parade whether you are on a float, in a marching group or as a spectator! Remember, Dec. 1 at 9 a.m., Coit Road is the place to be! The parade's award ceremony will be held the same evening at 5 p.m. at the Richardson City Hall/Civic Center plaza, just prior to the City's Annual Christmas Tree Lighting Ceremony and the opening of Santa's Village.