The 21st annual Richardson Corporate Challenge, a 10-week, athletic and nonathletic competition among area businesses sponsored by the City of Richardson, held its closing ceremony Oct. 11 at the Civic Center and recognized the winning companies in six divisions. The winners were: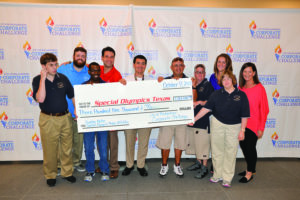 Division A—Texas Instruments
Division AA—Geico of Texas
Division B—ISN
Division BB—Maxim Integrated
Division C—L-3 Advanced Systems & Technologies
Division D—Sendero Consulting
This year employees from 57 DFW-area companies participated in the Richardson Corporate Challenge.
They raised $301,000 to support Special Olympics Texas, the event's beneficiary. Corporate Challenge has raised more than $2.5 million in its 21-year history. Registration for the 2019 Richardson Corporate Challenge is now open to companies of all sizes in the DFW area. For more information, visit www.cor.net/cc.