People looking to adopt pets often go to the Richardson Animal Shelter website to see if their perfect match is waiting to be adopted. However, the site is also home to a registry of lost animals, serving to connect owners with animals that have wandered off.
The lost and found section of the Shelter website allows owners to report missing or found pets, including a description of the animal, contact information for the owner or person who found the pet, and a picture. Additionally, a Google Maps plugin on the page shows the area where the animal was last seen or found. A list of lost pets that have been taken to the Animal Shelter is also included on the website, plus a note that anyone who has lost a pet should check with the shelters of neighboring cities in case their animal was taken there.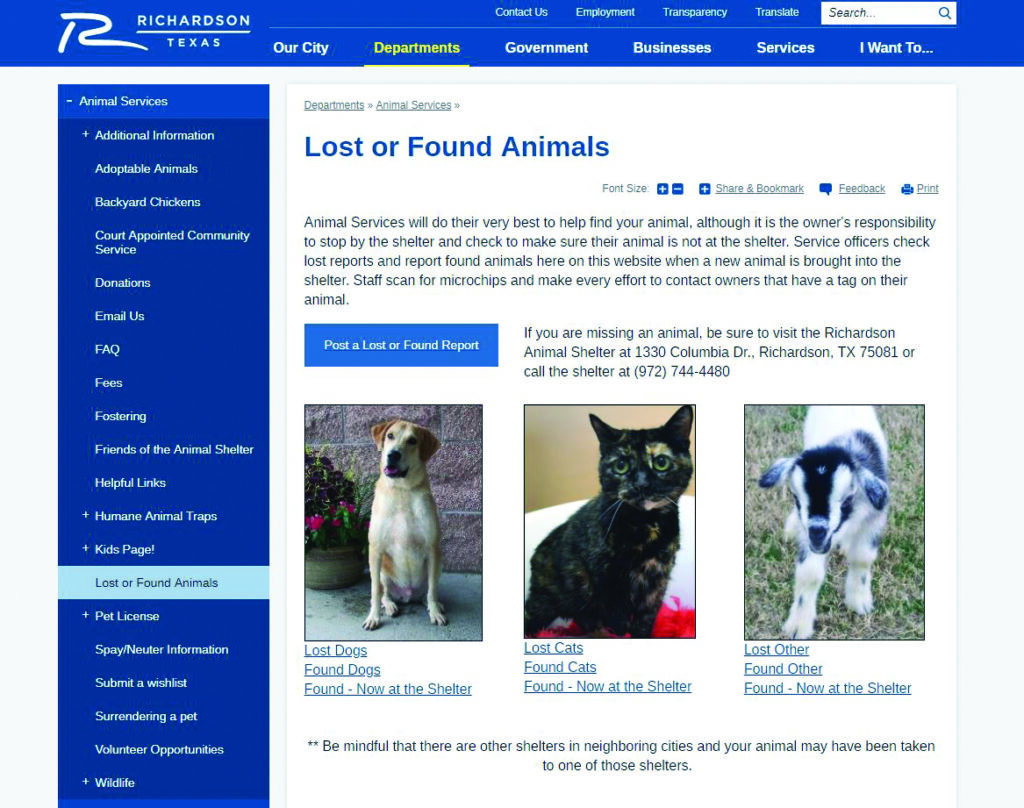 Typically, a large number of the animals listed on the website are not wearing a collar and are not microchipped, something that makes reuniting them with their owners difficult.
"When you come to the Shelter and look around, one thing all the pets have in common is no identification," said Dennis Wooten, Animal Services Director. "Without a tag, chip or city registration, all Shelter staff can do is go to the lost page and hope a report has been entered. Our goal is to get your pet back to you as soon as possible, but to do that, we need your help."
The Richardson Animal Shelter offers personalized tags for $2 and microchipping for $15, no appointment necessary. Shelter staff will be happy answer any questions you may have on microchipping pets. Please note that once you have your animal chipped, you need to register the chip and provide contact information, as well as update the contact information if you move or change phone numbers. Outdated or non-existent contact information results in about 80 percent of chipped stray animals not being returned to their owners.
For more information, visit www.cor.net/animalshelter and click on Lost or Found Animals on the left side toolbar.