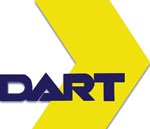 The 2019 State Fair of Texas opens Friday, Sept. 27 at noon, continuing through Oct. 20, and DART is making several changes during the run of the fair to assist riders traveling to and from Fair Park:
Extra Green Line trains will be added from 9:30 a.m.-3:30 p.m. weekdays and 9:30 a.m.-7 p.m. weekends, with all trips featuring three-car trains.
The Orange Line will be extended to Plano's Parker Road Station (except for Saturday, Oct. 12).
Green and Blue Line service will be added after 7 p.m. Saturdays and Sundays.
The Green Line provides service to both stations at Fair Park. Southbound Red and Orange Line passengers boarding at Richardson DART stations can transfer to the Green Line at Pearl/Arts District Station—look for Green Line trains labeled, "Fair Park," "Buckner" or "Lawnview." Green Line trains will be available approximately every 10 minutes.
Cost to ride from Richardson is $6 for a Local Day Pass; DART passes and discounted State Fair tickets may be purchased through DART's GoPass app. For more information, visit www.DART.org/StateFair or call DART Customer Information at 214-979-1111.