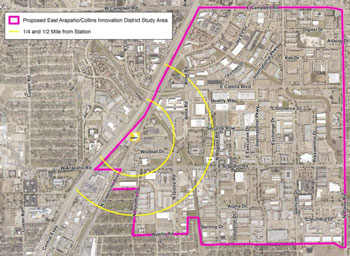 The public is invited to an open house Wednesday, Aug. 21 to learn how plans are shaping up for the Collins/Arapaho TOD and Innovation District. The open house will be held from 5:30-7:30 p.m. at the Travelers Insurance Office Building at Collins Square, 1301 E. Collins Blvd. Format for the evening is come and go, with an overview presentation at 6 p.m.
Over the past 16 months, hundreds of stakeholders have contributed feedback and creative ideas for the 1,200-acre area, and the open house is an opportunity to see how the new draft zoning for the district builds on these ideas, and to give additional feedback.
Attendees should enter on north side of building. For more information, visit www.cor.net/collinsarapaho.