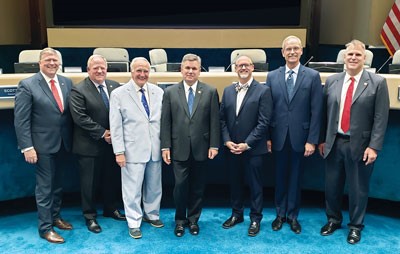 The Richardson municipal election vote was canvassed and made official at the May 13 City Council meeting.
The newly elected 2019-21 City Council members were then sworn into office. Returning City Council members are Mayor Paul Voelker (Place 7), Bob Dubey (Place 1), Mark Solomon (Place 2) and Steve Mitchell (Place 6). New to the City Council are Kyle Kepner (Place 4) and Ken Hutchenrider (Place 5).

Outgoing City Council members Marta Gómez Frey and Mabel Simpson gave remarks at the meeting and were recognized with remarks by fellow City Council members. Council Member Scott Dunn (Place 3) will remain on the City Council until after the June 8 runoff election between Janet DePuy and Dan Barrios. The runoff election results will be canvassed June 17.

To view Monday's proceedings, click here.