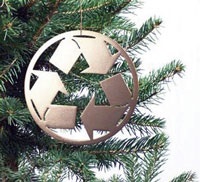 The City is encouraging residents to "tree cycle" Christmas trees by turning them into mulch and compost through the City's Tree Cycling program. Trees may be dropped off Dec. 26-Feb. 1 at the Municipal Service Center, 1260 Columbia Drive, or set out at the curb and picked up as part of the City's Brush and Bulky Item (BABIC) Collection.

The Service Center site will be open 24 hours, seven days a week; for BABIC pick-up, call 972-744-4111 and be sure to request that the tree be collected for composting.

Tree cycling guidelines:
Trees must be natural (not artificial) and unflocked.
All ornaments, tinsel, tree stands, nails, lights, etc., must be removed.
Calls for BABIC must be received before the designated collection day (your BABIC day is the same as your recycling day).
Website: www.cor.net/treecycling