DART and the City of Richardson received good news last month: the $908 million federal loan needed to fund the Cotton Belt Rail Project closed, giving the green light for work to begin. The project's long-awaited, 26-mile commuter rail line will stretch from Plano to DFW Airport and include two new stations in Richardson and a new bridge over US 75 near CityLine. It will also include an adjacent hike-and-bike trail and noise wall structures near residential developments.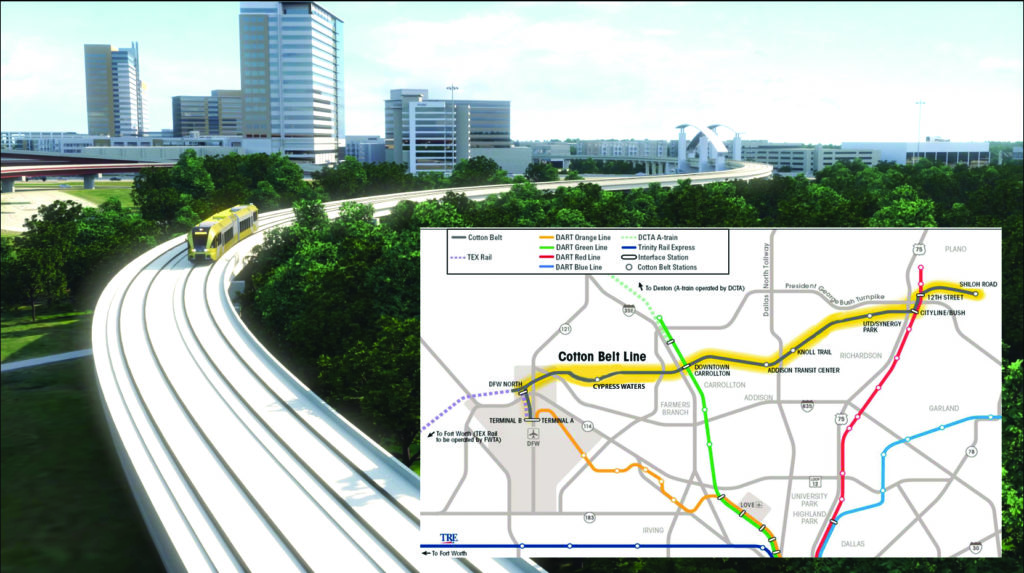 The Richardson City Council and DART forged an interlocal cooperation agreement regarding the Cotton Belt Rail Project last July, in which the City pledged to redirect 11.67 percent of the previously approved developer's portion of TIF funding to the project and provide three rights-of-way parcels of land (approximately 5 acres). In return, DART pledged to work with the City on design concepts for components of the project that will be located in Richardson, such as the bridge, the trail and the new station at CityLine. Another station will be located at UT Dallas in the Northside development.
Design work is expected to take 6-8 months, followed by utility relocation and foundation work for bridges. The DART board plans to make a decision this month whether to fully double-track the entire project.
Completion of the project is expected in December 2022. For more information, visit www.DART.org/cottonbelt.