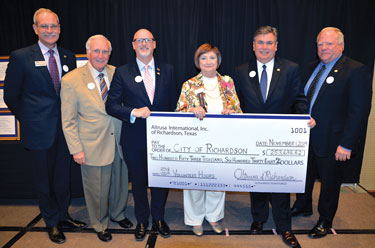 Altrusa International of Richardson, Inc. held its 16th annual "Outstanding Women of Today … Builders of Tomorrow" awards luncheon earlier today. During the event, members of the Richardson City Council were presented a ceremonial check for $253,638 representing the hours of volunteer time invested in the city by the organization in the past year. Altrusa provides support to City departments and local agencies including the Richardson Public Library, Animal Shelter, RISD and Network of Community Ministries. It also helps make the Richardson Reads One Book event possible.

Also at today's event, Altrusa honored six women (out of 23 nominees) as "Outstanding Women of Today … Builders of Tomorrow," chosen for leadership in the categories of Small Business, Corporate/High Tech, Education, Government/Municipal, Nonprofit and Health Care. In addition, one woman was named "Outstanding Woman of Tomorrow," an honor given to a nominee 35 years old or younger who is employed in one of the six categories.

The honorees are Lily Morgan, Nancy Phillips, Amanda Rockow, Kaylan VanPelt, Wendy Sheriff, Amy Brunson and Kandy Fleming.